Grandparents Raising Grandchildren is something that is happening more and more. This is due to several different things that are coming on in this era of time. Some parents are on drugs or in prison for drugs while others just simply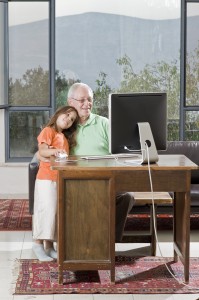 can't even take care of themselves. All children deserve a safe place to live.It certainly is not something that we as grandparents had in our plans for retirement but letting my grandchildren have to go live with strangers is not an option for me.Grandparents rights carry a big responsibility. We are family and family needs family. The hardest part of this role changing from grandparent to parent again is knowing how to relate to these children of a different era in time. They are more educated in computers, video games and where do we fit in?
When obtaining grandparents legal rights there is also the part of going from not being in a disciplinary role to having to try to figure out how the best way to discipline the children living in our homes again. There are no easy answers for any of these questions but I am going to suggest a list of things you may want to try to keep the communication going with your grandchildren. Having grandparents custody rights means being involved in sports again.
1. Sports – If your grandchildren were involved in sports before they came to live with you it will be good for them to stay involved. If they do not play sports but like to watch sports, take them to a game of their choice.
2. Games – Play games with your grandchildren. Most children like board games and would really love the fact that you take the time to play games with them. Put together a puzzle with them. Have a table where you keep an ongoing puzzle and give them some of your time after supper.
3. Crafts. – Make something with them. If your grandchild is a girl you might try decorating a lamp shade by using hot glue to add on buttons or fringe. Match their bedroom and watch the smile on their face because they are so proud of what they created. If your grandchild is a boy, help him put together a new fishing tackle box and take him fishing.Well do not leave the girls out on this one because girls like to fish too.
4. Bake cookies – All children love to bake cookies. Again spending time with you is priceless. If you do not want to bake cookies then let them choose what they want to bake and help them do it. Children love to learn.
5. Movies – Take your grandchildren to a movie ever once in a while. If you have one in your area take the to a drive-in movie. That should be a new experience for them.
6. Learn the Computer – Let them teach you how to use a computer and search the web with them. Decide the interests you have in common with them and search out things with them on the subject.
And as a grandparent please keep your grandchildren's best interest in mind. I hope that you are one of those lucky grandparents that has a good relationship with your grandchildren and their parents but if your are not please search out your options. The new grandparents rights are certainly something to check out. I wish you all the best. Good luck with your grandchildren. Jacquelyn Dunn
Article Source: http://EzineArticles.com/?expert=Jacquelyn_Dunn